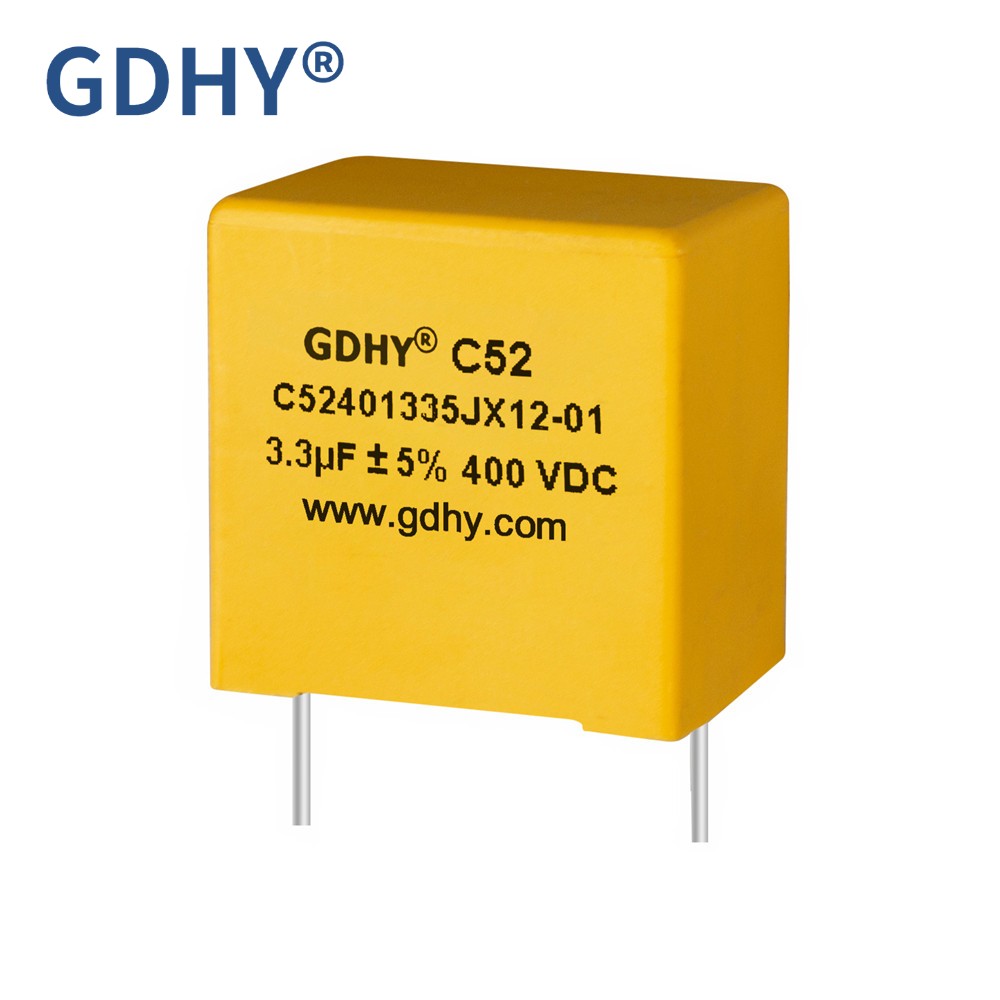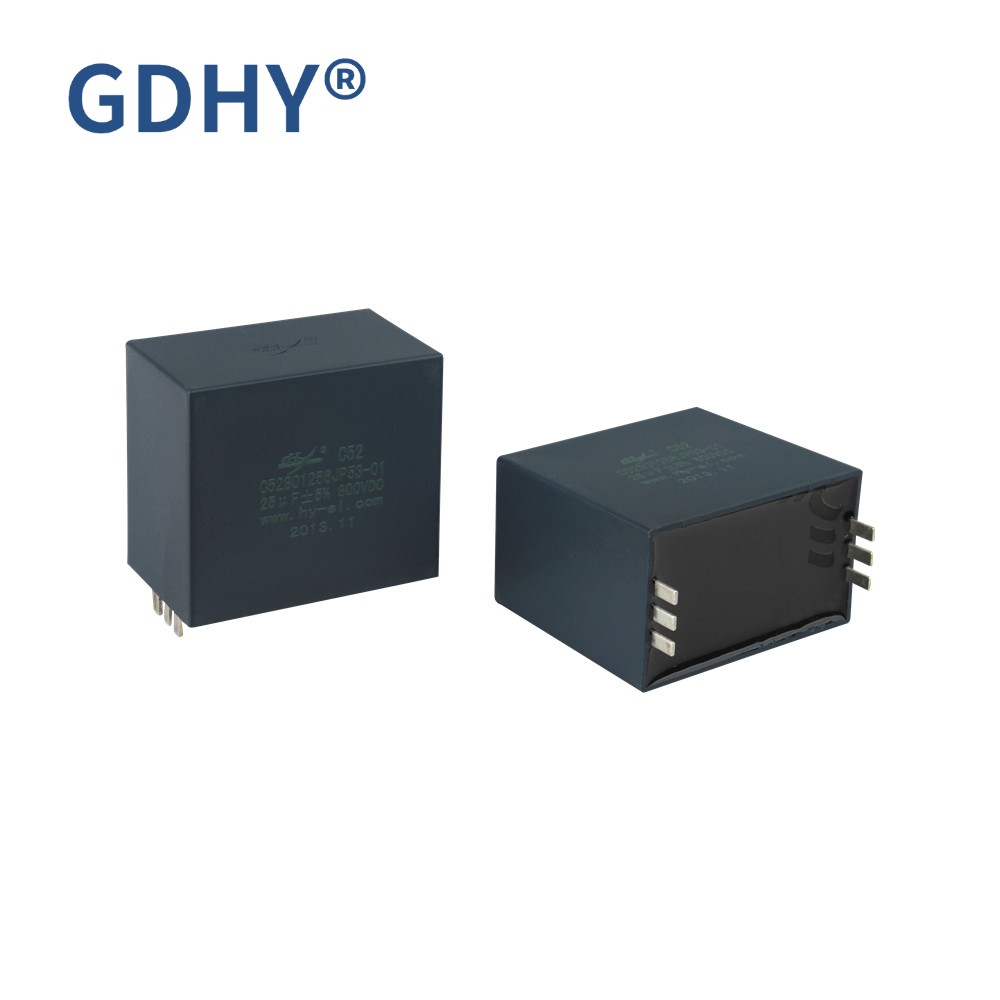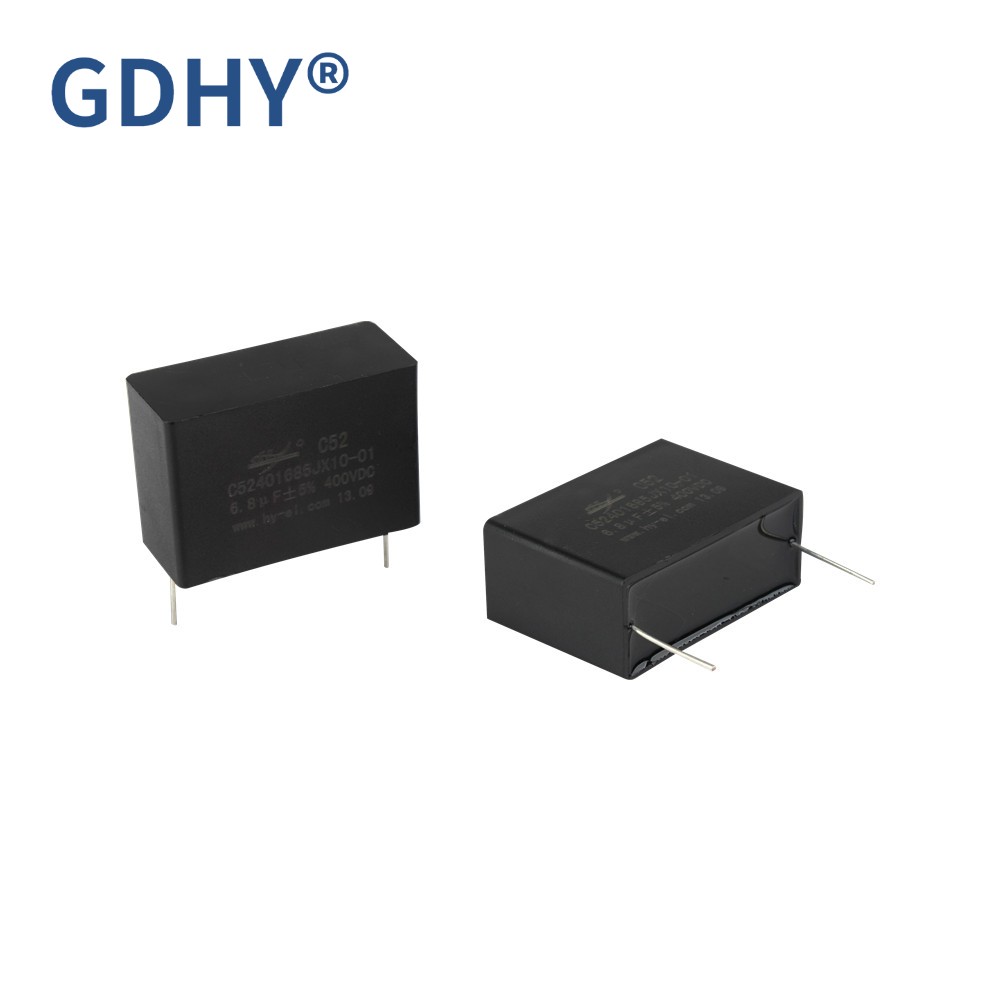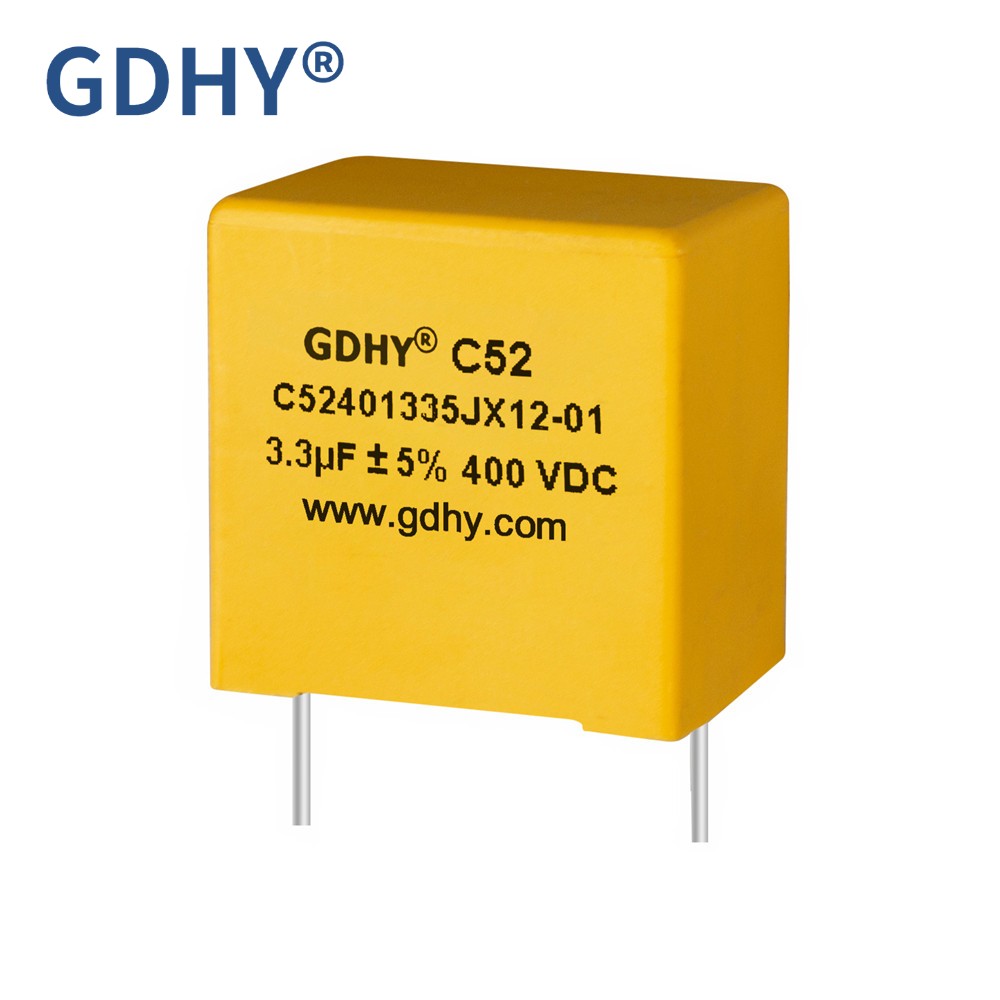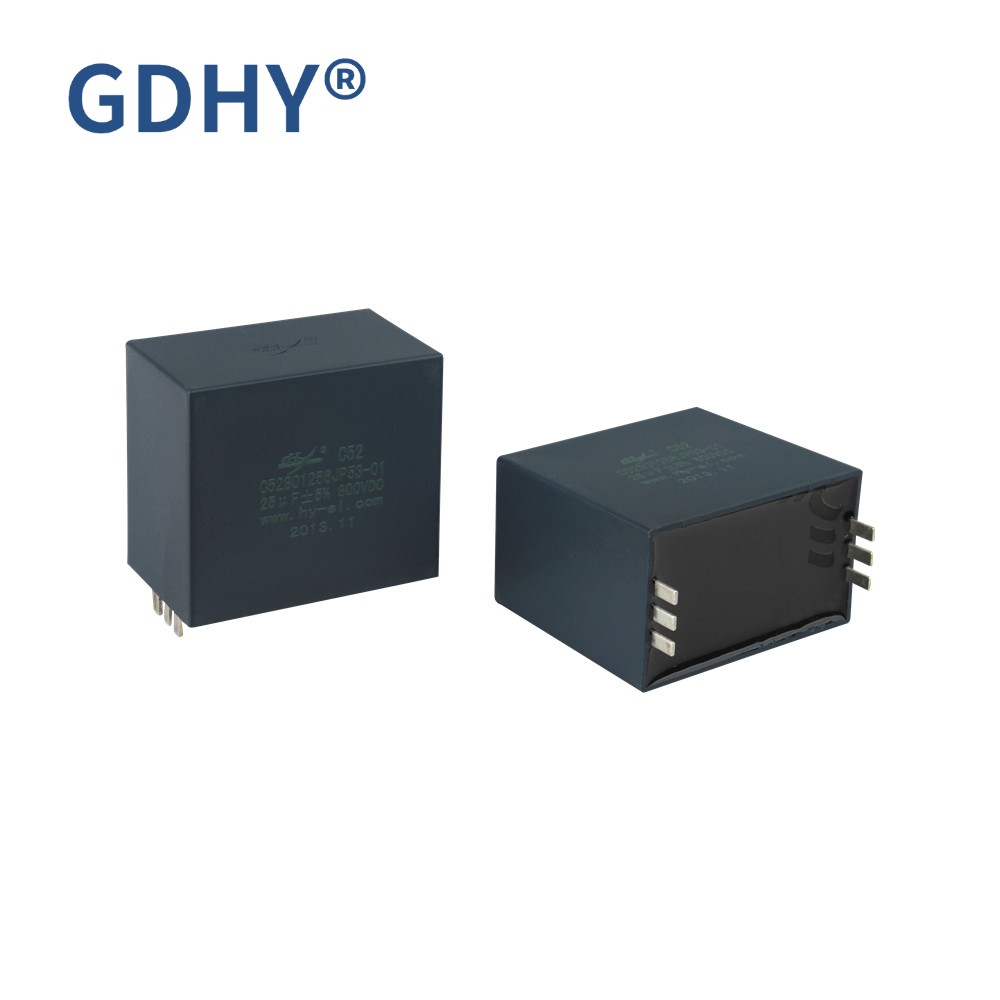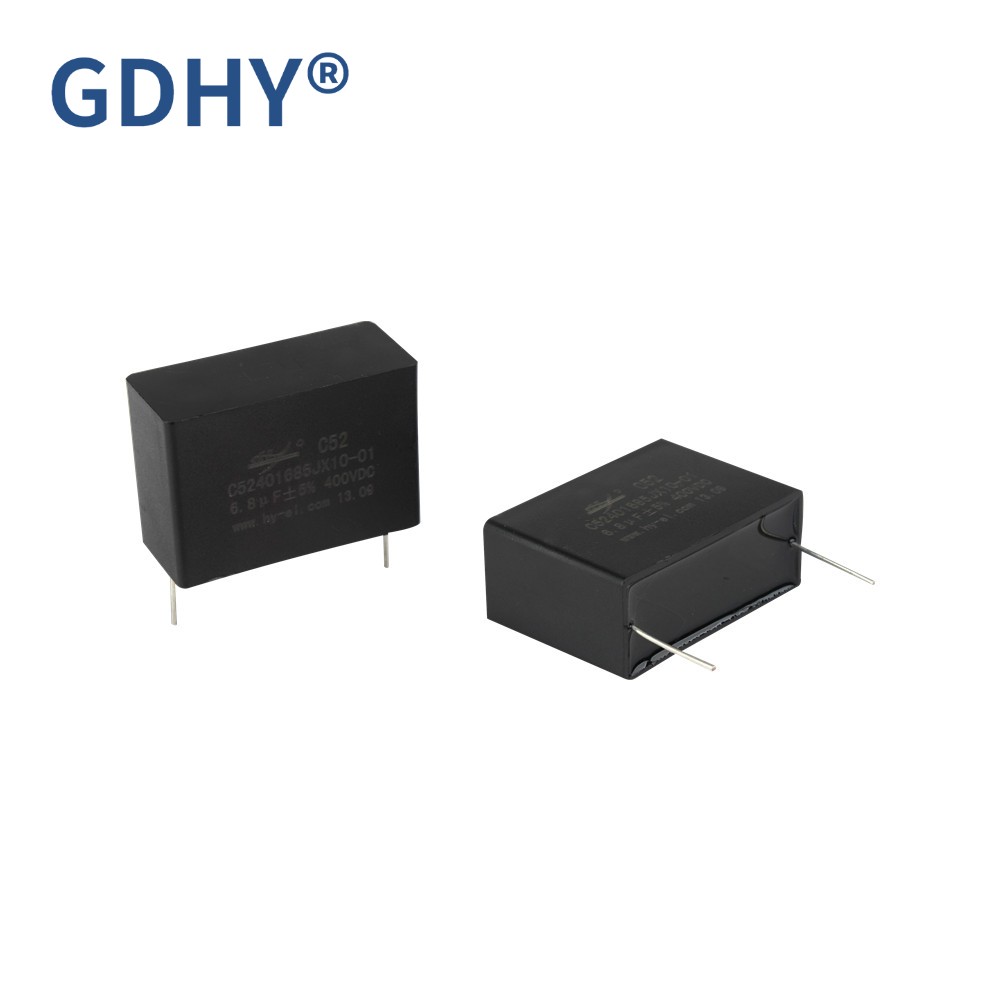 GDHY C52 DC coupling capacitor capacitors for induction heater DC link film capacitor box type
DC coupling capacitors are widely used in inverter, SVG, UPS, electric cars, hybrid cars, plating power supply, inverter welding machine, inverter power supply, induction heating equipment(capacitor for induction heater), high-power high-frequency switching power supply, elevator motor drives, solar power, wind power converter in sectors such as power circuit design.
Reference standards
GB/T 17702 IEC 61071
Operating Temperature Range
-40℃~85℃
Capacitor range
5.0μF~90μF
Rated Voltage
500VDC~1200VDC
Capacity Tolerance
±5%(J);±10%(K);
Test voltage between terminals
1.5UN(DC)60S 25℃±5℃
Dissipation factor
tgδ≤3×10-3 at 25℃±5℃,100Hz
Insulation resistance
C•R≥5000S,at 100VDC,25℃±5℃,60S
Life expectancy
100000h at Ur and ≤70℃
Metallized film capacitors use the polypropylene film dielectric vacuum steaming metallized electrode, made by automatic cutting and winding equipment, application of non-inductive winding technology, internal adopts copper core inverter spot welding connection, special spray gold craft, resistance is molded case shell encapsulation, epoxy potting, heavy copper nut, tin copper wire or end plate derivation, makes the capacitor has big power, high temperature resistant, long service life, use safety, the effect series resistance is small, small self-inductance, over current, over voltage ability, can withstand large ripple current and has the characteristics of self-healing.Box-type, Copper nut/screw leads, insulated plastic cover positioning, easy installation. Large capacity,small size.Resistance to high voltage, with self-healing. High ripple current, high ripple current, high DV/DT withstand capability.DC link capacitors are widely used in dc-link circuits for filtering and energy storage, frequency converter, inverter, and inverter power supplies.
Excellent features of DC-Link film capacitors are as follows: high stability, long service life. Non inductive structure. Excellent self-healing performance. The equivalent series resistance is small. Strong over current and over voltage ability. Small loss, can carry large ripple current. High insulation resistance, low dissipation, good self-healing character, anti-striking current, strong over-carrier capacity and steady electric performance.
The DC-link capacitor must balance fluctuating instantaneous power on the rails injected by activity from the first and third stages. The polypropylene film capacitor stabilizes the "ripple" generated by Stage III's high-frequency power switching circuits. Ripple current/voltage (specified at a given frequency and temperature) is the total amount of Root Mean Square (RMS) alternating and direct current/voltage that a capacitor can withstand without failing. The DC-Link capacitor (located in Stage II) must stabilize and smooth out the voltage and current on the rails (i.e., decoupling spikes caused by switching).
● Polypropylene film dielectric
● Plastic shell packaging, flame retardant epoxy resin encapsulation
● Tin coated copper wire
● High pulse current withstand capacity
● Convenient installation
Widely used in of DC-Link circuit for energy storage. Can replace electrolytic capacitors, better performance and longer life. Pv inverter, wind power converter, all kinds of frequency converter and inverter power supply; Pure electric and hybrid cars; Charging pile, UPS, etc.
Use our contact form on our contact details page or call us to discuss this product further.
Copyright © 2022 GDHY - www.gdhy.com All Rights Reserved.