What is High Frequency Capacitor?
With more applications running at higher frequencies, and with digital devices set to run at even higher edge rates, various portions of your system may not act in an ideal manner. Capacitors used to ensure power integrity and for use in various circuits built with discrete components will not act as real capacitors at a certain range of frequencies. With this in mind, you'll need to choose the right capacitor for very high speed/high frequency applications.
What Makes a High Frequency Capacitor?
The entire goal in choosing a capacitor is to make sure that it acts as close to a real capacitor as possible. Real capacitors have parasitic resistance (called effective series resistance, or ESR) and parasitic inductance (called effective series inductance, or ESL). Capacitors also have some leakage resistance across the two plates in the capacitor, but this is generally large enough that it can be ignored in high frequency applications, especially when working with large capacitors.
So what does this mean for your capacitors? Essentially, it means that every capacitor is really a series RLC circuit. This means it has some resonance frequency when driven with a periodic signal. At low frequency, the impedance provided by the capacitor is dominant, and your capacitor will exhibit close to ideal behavior. At sufficiently high frequency, the ESL value takes over, and the impedance starts to appear inductive. This produces an effect known as self-resonance at just the right frequency.
What

'

s the

difference between high frequency and low frequency capacitors

?
The difference between high frequency and low frequency capacitors: 1. Low-frequency capacitor have large capacitance and are prone to leakage, while high-frequency electrolytic capacitor will not. 2. The internal resistance of low-frequency capacitor is larger than that of high-frequency electrolytic capacitor. 3. The capacity of high frequency capacitor is generally not as large as that of low frequency capacitor. 4. High-frequency capacitors are suitable for circuits with higher frequencies, while low-frequency capacitor are suitable for circuits with lower frequencies.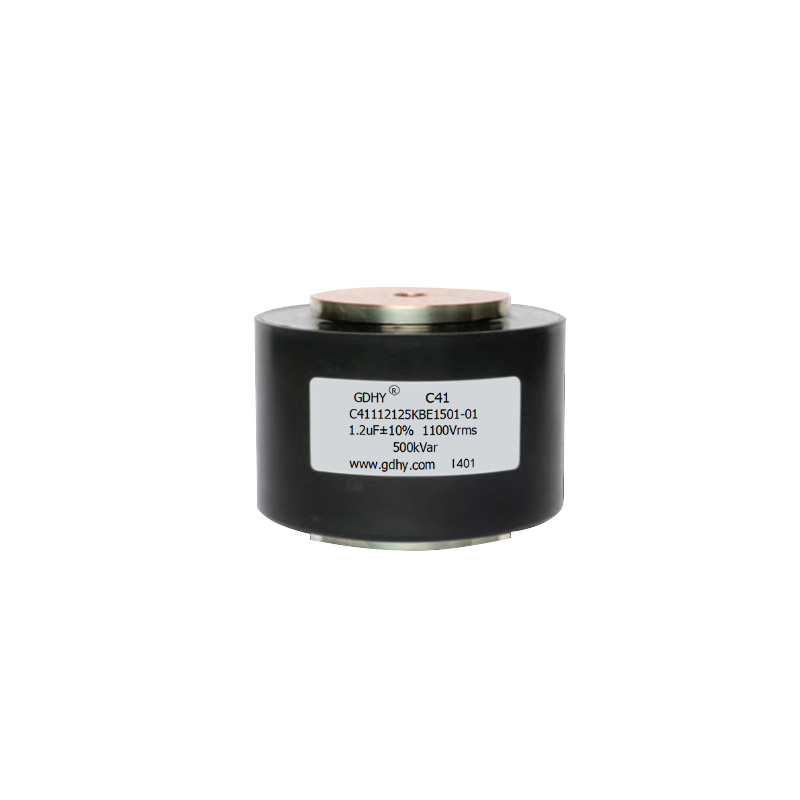 What's the frequency characteristics of capacitor ?
Any capacitor manufactured is not an ideal capacitor. There is dielectric loss. Capacitors with small dielectric loss are suitable for high-frequency circuits. Those with large dielectric loss can only work at low frequencies. This is called the frequency characteristics of capacitor. Capacitor frequency characteristics refer to When a capacitor works in an AC circuit (especially in a high frequency circuit), its capacitance and other parameters will change with the change of frequency. When the capacitor is working in a high-frequency circuit, the dielectric constant of the capacitor material will decrease as the frequency of the working circuit increases. The electrical loss at this time will also increase. Different types of capacitors have different dielectric parameters, and they are not interchangeable in many cases.
This means that the important characteristic distinguishing different capacitors for different frequency ranges is the capacitor's self-resonant frequency. At this particular frequency, the capacitor will exhibit its minimum impedance and a very strong current response.
For PCBs that will operate a high speeds and high frequencies, the selection of capacitors becomes very important. With high speed digital signalling, capacitors should be selected such that they have ideal capacitive impedance up to the signal's knee frequency (0.35 divided by the 10%-90% rise time). In other words, the self-resonant frequency should be greater than the knee frequency. With high frequency analog signals, any capacitors should be chosen such that the relevant frequencies in the system are lower than the self-resonant frequency.
This is important from a design aspect as you need your capacitors to act like ideal circuit elements, otherwise you might miscalculate the capacitance you are providing in a particular circuit. It is also important from a power integrity and signal integrity aspect. Capacitors used for bypassing/decoupling are intended to suppress power fluctuations and ringing in a power bus or signal chain when transistors switch, but a mis-sized capacitor can produce ringing due to self-resonance rather than suppressing it.
Some other important aspects to consider are:
ESR frequency stability: As ESR is a parasitic effect, it can also be a function of frequency. This will affect the shape of the capacitor's measured impedance curve to some degree. This will also affect sizing in some very high frequency applications.
Surface-mount vs through-hole: This becomes extremely important at microwave and higher frequencies. The pin on a through-hole capacitor can act like a strong resonator at extremely high frequencies (mmWave), meaning it will radiate strongly like an antenna. Keep this in mind.
Temperature and voltage stability: Capacitance (and all other ratings) can change with the input voltage level and temperature.
First series resonance (FSR) and first parallel resonance (FPR): These are the lowest rated frequency value at which S11 and S21 are rated for the capacitor in question.
What's the problem need to pay attention about high-frequency design?
The circuit designer and capacitor designer have methods to address certain aspects of operating at higher switching and harmonic frequencies. The general principle is to cancel the ESL of capacitors through mechanical configuration of opposing current flows, and increase conductor surface area relative to skin depth and operating bandwidth. Understanding those comparative approaches allows the circuit designer to choose the correct combination of circuit and capacitor designs to optimize performance and cost. It is also essential to understanding capacitor specifications, and the impact of specification requirements on capacitor design and cost.
What

'

s the t

ools Available to the Capacitor Designer

?
Designing film capacitors for high-frequency applications requires the capacitor designer to employ mechanical techniques of winding geometry and assembly cancellation technologies. Plastic dielectric capacitors are rolled windings of two or more dielectric layers. Figure 4 shows the components of a wound capacitor including the fixed inactive aspects of margin and offset. The area required to provide the needed capacitance dictates the length of dielectric rolled into the winding. By decreasing the material width, the fixed inactive aspects of the winding decrease the volume efficiency. However, narrower material widths increase the peak and RMS current capacity.
If you contact us now for more details, you can take samples for free. Our service team will get back to you with in 24 hours normally !
Copyright © 2022 GDHY - www.gdhy.com All Rights Reserved.