GDHY Revolutionizing Capacitor Design to Enhance Performance and Efficiency in Small Welding and Quenching Equipment
In the world of industrial equipment such as aluminum foil sealing machines, small welding equipment, and small quenching equipment, efficiency, reliability, and innovation are paramount. When it comes to capacitors, the cornerstone of many electronic systems, maximizing their performance while ensuring proper heat dissipation is essential for achieving optimal functionality and extending product lifespans.
Traditionally, capacitors have been designed with copper plates bonded together, presenting challenges in terms of heat dissipation, temperature control, and overall performance. These limitations not only affect the product's power output but also indirectly impact its service life. In addition, installation difficulties, high production costs, and an unsightly appearance further compound the issues faced by manufacturers and end-users alike.
Inherent to the conventional capacitor design is a potential vulnerability: poor contact between the copper plate of the capacitor and the copper plate at the inductor lead end. This deficiency directly impacts both electrical and thermal conductivity, culminating in the deterioration and eventual failure of the capacitor. However, with GDHY's pioneering advancements, these concerns are comprehensively mitigated, leading to a paradigm shift in the realm of capacitor technology.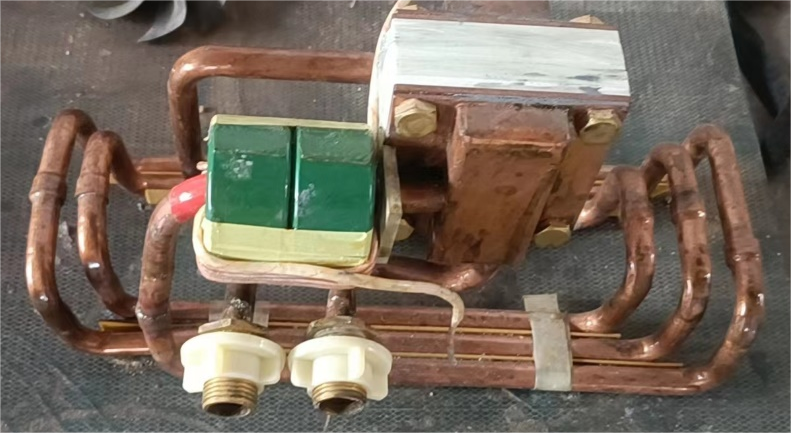 Introducing a Breakthrough Solution
Recognizing the need for a superior alternative, forward-thinking manufacturers turned to GDHY for innovative solutions. With a dedicated team of engineers, GDHY embarked on a journey to revolutionize capacitor design, focusing on enhancing heat dissipation, efficiency, and cost-effectiveness.
After meticulous calculations and rigorous testing, GDHY's engineers have developed a groundbreaking solution - integrating capacitor products with water boxes. This innovative design not only addresses the aforementioned challenges but also presents a host of additional benefits.
Advantages of the New Design:
Seamless Installation: The new design simplifies the installation process, resulting in reduced labor workload for customers. Furthermore, with less material required, this design contributes to a more efficient and streamlined production process.
Enhanced Heat Dissipation: By directly combining the copper plate with the water box, heat dissipation is drastically improved. This advancement leads to a remarkable 30% to 40% increase in power output, enhancing the overall performance of the equipment.
Optimized Efficiency: Given that the equipment is subject to high ambient temperatures and frequent use, conventional capacitor solutions fall short. Mica capacitors were initially employed as a replacement, albeit at a higher cost. GDHY's solution, with its water box-integrated design, offers an economically viable alternative that perfectly addresses the demands of such challenging operational environments.
Transitioning to the Future
GDHY's dedication to innovation and problem-solving has ushered in a new era of capacitor design for industrial equipment. The transition from square-type to round-type capacitors not only streamlines production processes but also facilitates ease of use and installation for customers.
In a landscape where efficiency, performance, and cost-effectiveness are paramount, GDHY's water box-integrated capacitors are the first to represent a pivotal advancement. With a commitment to addressing customer needs and delivering cutting-edge solutions, GDHY continues to push the boundaries of technology, ensuring that industrial equipment performs optimally while standing the test of time.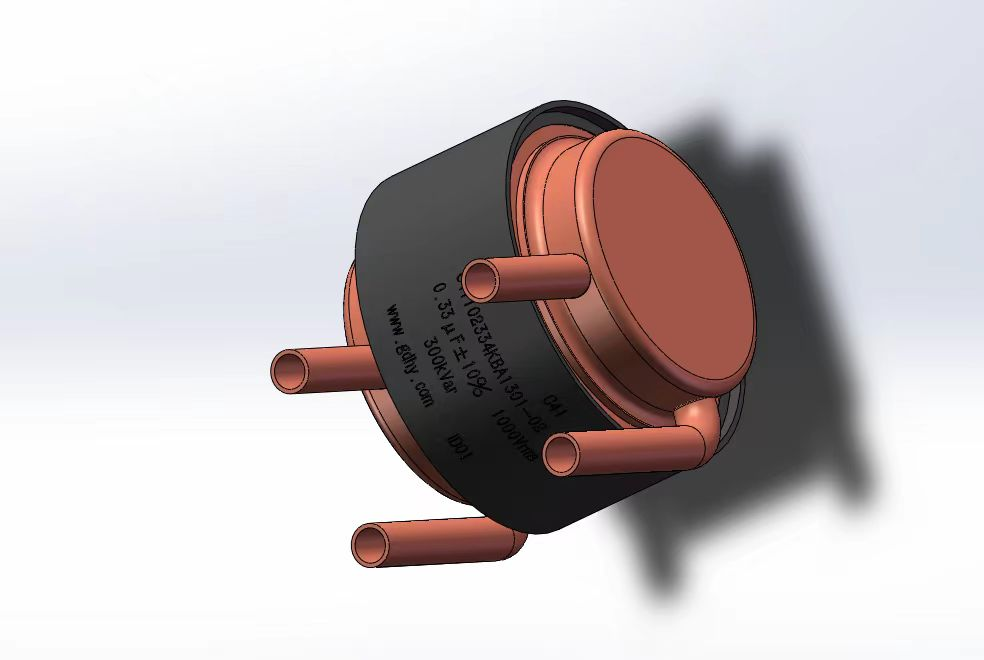 Key Precautions During Installation: Enhancing Capacitor Longevity
When approaching the installation process, particularly when welding copper tubes, it becomes crucial to consider specific precautions that can significantly influence the performance and durability of the capacitors.
Prioritizing Heat Dissipation: Welding copper tubes involves the generation of heat that can potentially affect nearby components. Ensuring efficient heat dissipation during the welding process becomes paramount to prevent the transmission of excessive heat to the capacitor. By diverting heat away from the capacitor, the risk of thermal damage is drastically reduced.
Minimizing Temperature Conduction: In situations where copper tubes are being welded, the practice of minimizing temperature conduction is vital. Any inadvertent transmission of elevated temperatures to the capacitor could lead to scalding and consequential damage. By taking measures to isolate the capacitor from direct contact with the welding process, its integrity remains uncompromised.
Pioneering the Future of Capacitor Technology
GDHY's commitment to innovation extends beyond technological advancement—it encompasses a holistic approach that safeguards every facet of component performance. By recognizing the nuances of installation practices and the potential impact of heat dissipation, GDHY proactively addresses potential vulnerabilities, ultimately translating into enhanced operational lifespans for capacitors and the systems they power.
In the ever-evolving landscape of electronics, GDHY's water box-integrated capacitors stand as a testament to the profound impact that innovative design and meticulous installation can have on the longevity and efficiency of crucial components. With a commitment to elevating reliability and performance, GDHY shapes the future of capacitor technology through unwavering dedication and visionary insights.
If you contact us now for more details, you can take samples for free. Our service team will get back to you with in 24 hours normally !
Copyright © 2022 GDHY - www.gdhy.com All Rights Reserved.